About Rhonda Mitchell, Owner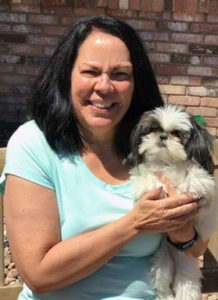 My name is Rhonda Mitchell. Critter Sitters Plus was established in 1990 and is uniquely designed to meet the needs of pet lovers.  How many times have your travel plans had to be cancelled or postponed due to the difficulties of acquiring proper care for your pet? There are many advantages to having Critter Sitters Plus work for you:
•    Peace of mind knowing that your pet is being cared for as if you were home
•    No imposition upon friends, neighbors or relatives (who sometimes forget).
•    Pets, by staying in their own home, are able to follow their normal routine, diet and regular exercise
•    Pets are not traumatized by travel in a car and avoid stress and illness from other animals
•    Individual attention is given to all pets including play time, brushing and tender loving care
•    Feed, water and administer any needed medications
•    Daily walks
•    Clean up any pet accidents, scoop and change litter box
•    Take in mail and newspaper
•    Alternate lights
•    Open and close blinds
•    Water plants and yards
•    Handle emergencies
More Pluses!  Exercising your pet any time you are unable to do so.  Midday walks provide that extra "relief" for your pets who owners work long hours.  Bird and Exotic Pet Care offered.
I am licensed, bonded and insured and a member of Pet Sitters International (PSI).  I am also involved with ASPCA (American Society for the Prevention of Cruelty to Animals) and PAWS for Life in Pueblo, CO.   I love being a professional pet sitter and will love taking care of your pets "When You Can't Be there".  Call me for a free consultation and enjoy your time away knowing your pets are in safe, tender-loving care hands.